100 Artworks for a Koala entry by Ronelle Reid.    Title:  "He knew the history, but wasn't content with his fate"  – watercolour pencil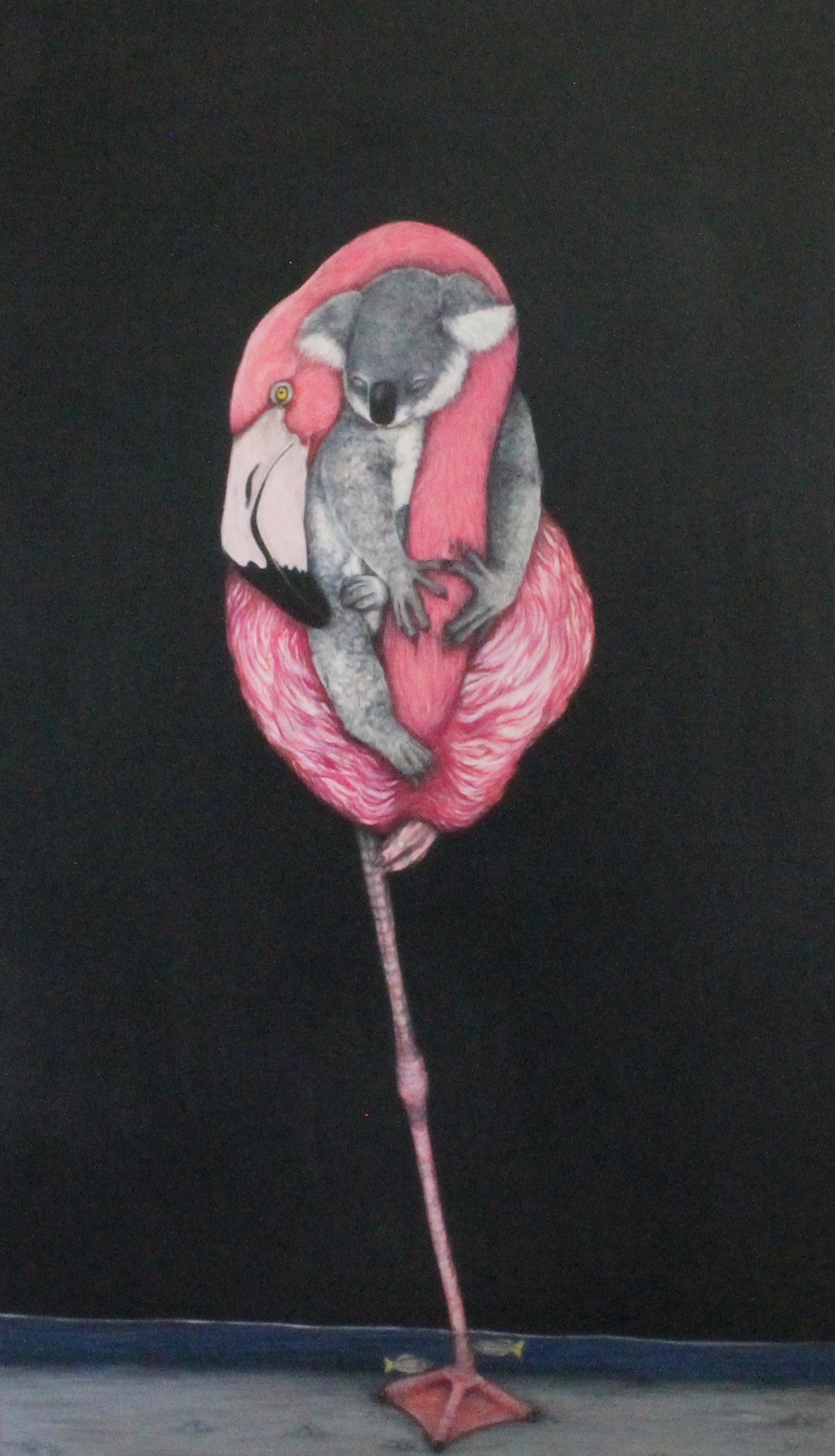 Ronelle  REID 
Artist based in Queensland, Australia. 
Art about cohabitation with a twist. The rules no longer apply with fish swimming in the antlers of an antelope and butterflies flutter around an eel…
100 Artworks for a Koala entry: Title: 'He knew the history, but wasn't content with his fate'
Size:W 40cm x  H70cm |  Medium: Watercolour pencil on mounted paper 
"Flamingos were once native to Australia, the inland lakes once teemed with these leggy pink birds but due to changes in the climate their habitat became uninhabitable and they became extinct here. The Flamingo's fate may be ancient history but the koala is looking down the barrel of a similar fate if we don't help" Ronelle  Reid
Artist bio / education
Inspired by my love of animals, I use ink, oils and watercolours to create detailed, visual narratives that explore the relationships between animals and their habitats. My style is a combination of colourful, naturalist work with quirky compositions that pair species who don't coexist or share habitats. I invite viewers to ask why the rules of land, air and sea no longer apply, and wonder why fish happily swim through the antlers of a bongo antelope and butterflies flutter around a moray eel.  As a dedicated artist, I've spent countless hours studying animals in museums, using the taxidermic displays to understand and convey their forms. However, it wasn't until I started work with RSPCA that my experience with animal welfare gave me a new perspective. Now, fuelled by this understanding, I combine my formal education in painting, screen and printmaking to plan each composition, purposefully breaking the rules of taxonomic categorisation. In doing so, my work draws attention to the interconnectedness between species and invites viewers to see how they are being forced to adapt in rapidly changing ecosystems, or risk extinction. 
These pairings also invite people to engage in the character and personality of the individual animals, challenging them to see them as more than just objects to be studied and classified.  Aware that much of Australia's rich biodiversity is found exclusively on this continent, and that we have one of the highest rates of extinction globally, my next series will inspire people to learn more about our vulnerable native animals and do more to protect them. 
My quirky, naturalist portrayals preserve and highlight the beauty and diversity of animals right in our backyards, asking us to imagine if the kookaburra, the koala, or wallaby were lost to us forever.
Education
1997 Bachelor of Visual Art with Honours Griffith University, Qld College of Art
1993 Studied Printmaking at the Brisbane Institute of Art
Artist awards/exhibitions / grants / residencies / publications
2020- Finalist- Lethbridge 20000 Small Scale Art Award
2020- Regional Arts Development Fund, Arts QLD and Logan Arts Council, Australia
2020-BEMAC Creative Booster Pack
2020- Liquitex Sponsor's Prize Petite Pieces
2019- Finalist- The Naracoorte National Art Prize
1998- Melville Heysom Memorial Award
1997- Asia Artslink Studio Residency, Manila Philippines
1996- Karl and Gertrude Langer Memorial Award
Solo Exhibitions
2021 (proposed)- Urban Menagerie- Logan Art Gallery, Logan
2007- Anthropomorphism- The Art Factory Gallery, South Brisbane
1997- Noah's Inventory- Institute of Modern Art, Brisbane
Group Exhibitions
2020- Wandering with the Wild, (Online) Aspire Gallery, Brisbane
2020- Lethbridge 20000 Small Scale works exhibition, (Online) Lethbridge Gallery, Brisbane
2020- All Creatures and Wild Things, RQAS, Petrie Terrace Gallery, Brisbane
2020- QWASI- International Animals in Art- Logan Art Gallery, Logan
2020- Petite Pieces- Aspire Gallery- Paddington, Brisbane
2020- Creative Relief- Aurecon Building, Brisbane
2019- Bump in the Night- The Old Auction House, Kyneton, Victoria
2019- The Naracoorte National Art Prize- Naracoorte, South Australia
2019- Diminutive- The Old Auction House, Kyneton, Victoria
2019- Petite Pieces- Aspire Gallery, Paddington
2018- Nundah Art Show, Nundah Festival, Brisbane
2018- Ipswich Art Awards, Ipswich
2018- RAW Showcase, The MET, Brisbane
1997- Fresh Cut- Institute of Modern Art, Brisbane
1997- Toe-Hold- Metro Arts, Brisbane
1996- Materials, QCA Gallery, Brisbane
1996- Solitary Confinement- Boggo Road Gaol- (co-curated)
Publications and Interviews
Artist contact
instagram: @ronellereidart
www.ronellereidart.com