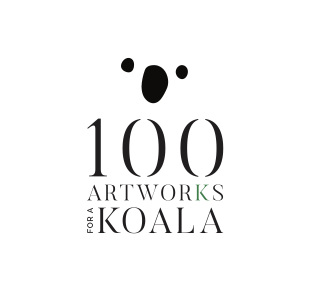 100 ARTWORKS for a KOALA – The concept: 100 Australian-based artists to provide an original artwork –  painting, collage, photography, digital, street art, sculpture, glass, ceramic…  featuring a koala, Eucalyptus or bush fires …or a combination. From the beauty of nature and the cuteness of a koala to the disturbing realities of loss of habitat, disease, destructive fire, drought, climate change and the real threat of extinction for the koala in the wild. This collection will show the  artists portrayal of the world of the koala.
The final images will be used for a book / exhibition catalogue, limited edition fine prints and various merchandise.
The originals to be sold at an international auction in the US  in 2022 (the original date was delayed by COVID –  we have a few back-up plans to be confirmed including a series of online auctions);  We will produce high definition canvas prints of the originals   [A1 size, shadow framed in with a Eucalyptus frame] to form the basis of a travelling exhibition to tour Australia (all States) from mid- 2022, and beyond, at 100 VENUES including museums, galleries, public spaces, community halls, hotels, clubs,  zoos, sanctuaries, eucalyptus forests and other inspiring locations.
We will use the funds generated for our awareness programmes and school visits and well as funding our koala food tree growing and planting programme.
Every item we sell  (Australian designed and printed / manufactured) buys at least one koala food tree –  some items fund more trees … to be planted where koalas need them most. We estimate the  100 ARTWORKS for a KOALA project will fund the growing of 100,000 koala food trees.
The difference between human action and inaction for a koala is extinction… now a reality with many areas of Australia reporting local extinctions. Australian artisans can, and do, play an active part in conservation. They have a powerful visual voice.